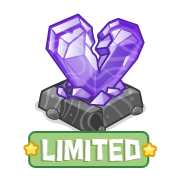 Introduction
Rare Decorations are released one of two ways. The first way is randomly when there are no other events going on and are limited promotions. The second way is through a special themed quest. In these, multiple decorations are released that match the theme of the quest. Most rare decorations can only be bought with

so many rare decorations are not bought. Rare decorations are only available through a limited time and so many of the decorations on this page are not purchasable at the moment. See Featured and especially the part on Challenges and Themes to find further links to other rare decorations or look in the Rare category. You will find All Decorations rare or common here.
Example of popular rare decorations
The most popular rare Decorations are those that produce crystals. The best known are:
Crystal Bank
(1 Crystal / 18 Hours) -

99
Crystal Tree
(1 Crystal / 12 Hours) -

249
Crystal Waterfall
(1 Crystal / 7 Hours) -

199
Examples of rare decorations from Themes
Most Challenges and Themes (see, Featured) include rare Decorations.
Examples from the Circus Theme are: [[Spring Theme|Sunflower Bronto
Circus Unicorn
(400 Coins / 4 Hours) -

199
Clown Rupert
(400 Coins / 8 Hours) -

119
Circus Mammoth (150 Coins / 5 Hours) -

9600
Ringleader Theodore
(65 Coins / 6 Hours) -

59
Flaming Hoop Dino (65 Coins / 6 Hours) -

59
Small Circus Tent (75 Coins / 8 Hours) -

3800
Circus Flag (15 Coins / 8 Hours) -

249
Red Balloon
(25 Coins / 8 Hours) -

19
Yellow Balloon
(25 Coins / 8 Hours) -

19
Blue Balloon
(25 Coins / 8 Hours) -

19
Pink Balloon
(25 Coins / 8 Hours) -

19

Also other Themes, like the basketball theme (currently not described on this Wiki) have rare Decorations
Basketball Regina (500 Coins / 5 Hours) -

99
Basketball Statue (70 Coins / 4 Hours) -

2499