Coins Craze!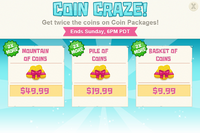 Start = 26 April 2012 [Friday]
End = 29 April 2012 [Sunday 6 PM]
Its a limited promotion to encourage player to buy coins package with the same price get double Coins.
The amount you can get in each package is different base on Level.
Mountain of Coins = $99.99
Heap of Coins = $49.99
Pile of Coins = $19.99
Basket of Coins = $9.99
Bunch of Coins = $4.99
Stack of Coins = $0.99
For example in this promotion, on Level 35, player can get this options:
Trivia
It seems at the moment this Promotions comes up, the market price suddenly high and also Wonder Challenge still on going.